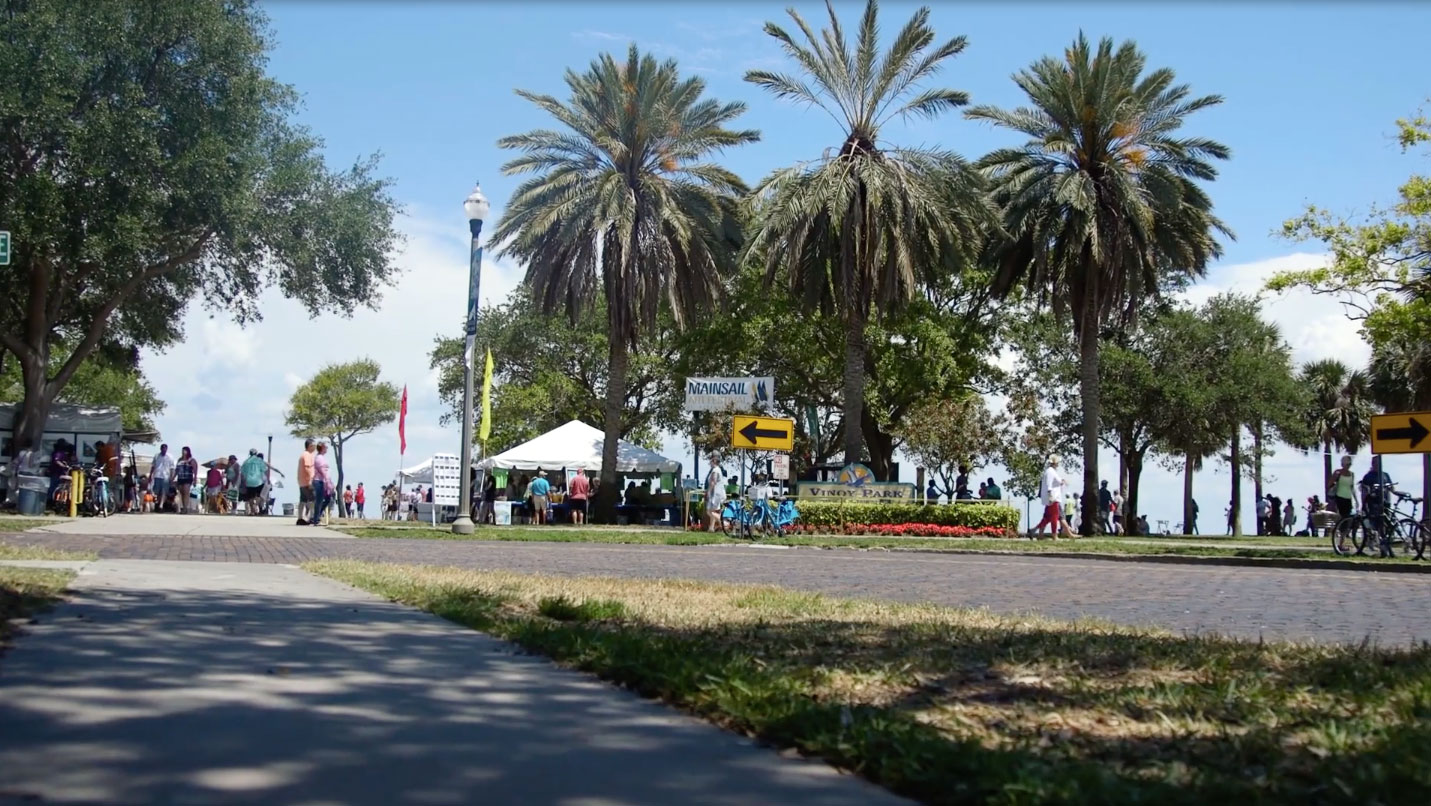 As a native Floridian, there's no place I'd rather live. Having lived in South Florida and the Panhandle, I moved to St. Petersburg in 1979 after finishing school in Tallahassee, and I've been here ever since. I've traveled all over the United States, and I'm always so glad to be back in my city. There simply isn't a better place to live, at least not for me.
Known as the Sunshine City, St. Petersburg has amazing weather, is full of vibrancy, creativity and fun! All year long, there are exciting opportunities to connect with and explore all our city has to offer. We have a SEVEN MILE waterfront park, which boasts outdoor activities throughout the year. Whether you're paddleboarding on the Bay or the Gulf, relaxing or exploring any of our amazing downtown venues- from restaurants, museums, listening lounges, concert venues and events to the arts or sports, there's something for everyone. It invigorates me that I can be downtown on Tampa Bay in the morning enjoying the sunrise, then jump in my car (or take a bike ride) down Central Avenue directly to the Gulf of Mexico in the evening to bask in a one-of-a-kind, glorious sunset. Sunrise, sunset–one street. No other City has that!!!
Need more convincing? Let me tell you about what I believe is THE BEST thing about St. Pete –it's the people. It's easy to find warm and friendly people ready to help, and there's an abundance of diversity and culture. I have watched people genuinely fall head over heels in LOVE with St. Petersburg, (or as the locals call it, "The Burg"). There is an undeniable energy here and a passion we all share for the City. And if the "youth are our future," then our future looks amazing. Kids who were brought up here aren't leaving, and why would they? We rock! They're choosing to raise their families here instead of moving away. I can name off several young people who have moved away to college or to explore and they come back! The grass isn't always greener, and the sand is definitely not any whiter on the other side. To think the average age when I moved here in 1979 was 60-something and today it's 41! We are no longer the "City of the Living Dead", we are the "City of Hip and Newlyweds."
As a local resident and Realtor for over 30 years, this is my stomping grounds. Anyone can say they know the neighborhoods, but more than that, I know our sweet niches within and around St. Petersburg. From the bay to the beaches, I have a "local" ­understanding of our area's different surroundings and the lifestyles they can offer. Whether you're looking for a home or condo, historic or modern, waterfront or centralized, urban or suburban, I can help you find the perfect match for your needs, lifestyle and budget.
I could just go on and on about my endearment for St. Petersburg, my City, I really could… and if you're reading this, you're probably already thinking about buying a home in St. Pete. If you're ready to start looking for a new home, or considering selling your current one, I'm your girl. My passion, knowledge and dedication to you and this amazing place I call home is a winning combination. And I promise, we'll have some fun along the way.
Through my lens,
Eileen